October 1, 2011 Artists
Hand cast funk-tional concrete art for the garden and home. Each piece is hand formed using leaves to make the impressions in the cement, stained and sealed these organic looking items can be used for so many things! cment2b on facebook. 979-702-1246
Handcrafted Steampunk leather costume accessories, integrating brass and vintage or recycled gadgets. I make leather goggles, with real brass eye pieces and hand-cut lenses; vintage military-inspired hats, masks that are reminiscent of early aviation, and other custom steampunk leather items. http://www.etsy.com/shop/COGstumeGEARments
My art is primarily using gourds. I incorporate several passions into my work. I use beadwork, textiles, iron work, clay and collage; to name a few. Of course I love nature, what artist doesn't, I actually use tree parts. Although, some of my work is functional and some non-functional. It's all pleasing to the eye and unique. What I consider non-functional are enjoyable interactive pieces with doors and windows. I've began working with gourds in 1999, and have experienced many evolutions with them from food-safe to wall art masks. I've been told many times that I have taken gourds to a different level. See more
http://www.mysticgourdstudio.com/
Kapel Designs

Chair making is my passion. I truly believe in using old world methods that are now considered "green" - such as using wood that has been air dried as opposed to natural gas kiln dried whenever and wherever possible. I love to work with completely non-toxic substances - primarily milk paints and natural oils - to create the beautiful, durable finishes available on all my furniture. Most of the wood I use is locally sourced - and Texas grown, when possible. Please read more at http://www.kapeldesigns.blogspot.com on the methods I use and how hand tools are a critical part of my process.
http://kapeldesigns.com/ 281-391-7107
My creations are handmade and one-of-a-kind, with unique vintage elements carefully handpicked from antique markets in France. In designing my creations I combine vintage elements with modern material creating eclectic, elegant and playful pieces, recalling days gone by. http://www.perleamies.com
Abstract paintings in acrylics and oils.
281-413-6203
http://www.urbani.smugmug.com
Designing Re-Purposed Jewelry utilizing vintage components is one of my favorite creative endeavors. I enjoy assembling elements into something re-envisioned and one-of-a-kind. Elements may include brooches/pins, sash pins, dress/fur clips, watch fobs, cufflinks, bracelets, earrings, and shoe clips. Other elements may include vintage keys, car emblems, clock ornamentation, belt buckles, buttons, rosary beads, chandelier crystals, and anything else that may lend itself well to design. (continue here) Facebook http://www.sunartstudio.com/
I am a multimedia artist focusing on the formal aspects of Art--line variation, texture, rhythm, color, space, etc. My original drawings, watercolor paintings, and other elements are encased within layers of mixed-mediums. The nature of the mediums dictate the compositions and ensure that no two are alike. They are created on custom made wood panels which eliminates the need for framing. www.amandaarmistead.com 281-796-7445
fLuxe Jewelry - Kristen Kramlich

Unique hand forged and oxidized jewelry.
fLuxe Jewelry flirts with a balance between soft and edgy forms and is inspired by many styles, including art deco, Aztec pottery, & modern graphic design. fLuxe Jewelry is a line made from copper sheet metal and patina chemicals. Soft, playful colors compliment the sharp, geometric edges. 713.299.6286 fLuxeJewelry.com
My work consists of minimalistic sculpture with a mathematical foundation. Specific parts of a form can be given more emphasis with the addition of vibrant colors of spray paint. I continually cross over from abstract to realistic as I seek out new shapes inspired by unusual lifeforms. 281.455.8261

Lang's Design Studio - Lisa Lang

With a view of the trees at my table I sit, kneading and working the clay. Until forms and shapes appear. After they are baked and cooled, they are glazed, hand painted or left naked. Then they are crafted into necklaces, earring or bracelets.
713-446-4035 Facebook- Lang's Design Studio
My paintings are based from direct observation. I take my French easel out into the city I call home, Houston TX. The subject matter, although always changing, is often the confluence of what I love about Houston; it's buildings, bayous, highways, tree lined streets and lush parks and gardens. I hope you can see the beauty of Houston in my Urban Landscapes. 713-305-6626 http://deatlyart.com
The Hanging Pendant by Michelle Hickman

"The Hanging Pendant by Michelle Hickman"
The Hanging Pendant believes in the uniqueness of each person. The word Unique is defined as -the one and only, having no like, unusual, rare, extraordinary, different, uncommon, distinctive, special. The word Individual is defined as -single, separate thing or being, particular, distinguished from others by special characteristics. The word You is defined as -Yourself, all of you, you alone. Our pieces are designed for an uncommon, distinctive, particular, separate being that is rare and extraordinary and special, a single being... You!
www.thehangingpendant.com 936-788-3008
Mary Mary G. Wilkinson Painter/Printmaker

Light and texture studies. My subject matter is abstracted from the garden
and other immediate surroundings, usually but not limited to botanicals. Read more.
713-772-7469

Artist and potter John Delafield makes a wide range of wheel thrown stoneware pottery
using rich earthtone clay and glazes designed for everyday use.
www.delafieldpottery.com
Currently I have been transitioning from 2D drawing to 3D sculptural fiber art. In my drawings I use color pencil to create landscapes with texture and depth. In my 3D work I use crochet, knitting and wet felting and other fibers like jute,silk,lace, burlap to create texture and highly charged color. (214) 708-0293
Linda Hardy is a self taught mixed media artist. Her pieces are a mixture of folk art, sculpture and mixed media, using an assortment of papers, acrylics, silver leaf, vintage hardware and embellishments. Commissions welcome.

My blog 832-434-6332
Watercolor Expressions by Mike Vollmer

I have been painting watercolors seriously since 1984. My initial passion was to paint landscapes and explore texture methods in watercolor. Since 2000, I have been interested in prophetic art after seeing it done as a part of worship during church.
713-550-3304
My artwork is all created by hand using ordinary knitting needles and various pliers. I have developed my own technique of knitting with wire, which I call "knitting off the needle." With my technique I use only one needle at a time for the purposes of pulling the stitch and controlling the stitch size.
http://www.wireknits.etsy.com
Beyond Her is a collection of artisan housewares, apparel and gifts. We start with original designs, which we screen print on heritage fabrics or print using recycled paper. The look is fresh and modern - meets - natural and organic. We call it Art for Living.
Beyond Her has new lines for fall, including pet accessories (Beyond Fur) and home furnishings (Beyond Her @ Home)
www.beyondher.com

Stevie Ballow

Handcrafted metal and mixed media jewelry featuring original metalwork in copper, brass, sterling silver, and gold filled. Also includes cords and ties made hand-plied from recycled fabrics.
www.ararething.com 832-453-2177
In addition to Ralph's traditional gouache landscapes and Nell's mini florals, Ralph and Nell are now creating a collection of small, whimsical works of art they refer to as "Desktop Gems". Many of them are collaborative works of imagination, with each of them doing a part of the artwork to create a colorful quirky piece of art.
ralphparkerart.wordpress.com (469)569-1183
Shadow boxes - A shallow rectangular box with a transparent front used to protect and display small items. A lot of creativity goes into making shadow boxes. I use found objects, personal mementos, imagination and various media.
832-603-3594 http://www.milagritosdearte.com
Lynn Chatman

My current work focuses on the emotional and healing impact of art and painting through the use of color, symbols, and texture. While I have always loved working in oil, most of my current work explores the versatility and unique expression of acrylics.
832-329-1054 www.lynnchatman.com
One of a kind dichroic jewelry. Art to wear = Earrings, Pendants and Art Glass. By artist Jeanne Haner.
http://www.jhjewelrystudio.com

Acrylic, House Paint, Mixed Media, Collage, etc. on Wood, Canvas, Metal, Board, Found Pieces, etc., and Found Object Sculpture. Basically, whatever I can lay my hand to. I can do a lot with a little.
281-572-1563
Unique one-of-a-kind hand-crafted necklaces and earrings. Majority are designed with semi-precious stones and love. Visit my web site to view the Calendar for my up and coming shows.
www.kcoriginaldesigns.com (281) 357-5180
Black and white and color fine art photography, which includes framed, unframed and matted, and a series of folk art 12"x12", hand made wooden boxes which showcase the images in a very unique way. I will also have my recent book, "Texas Troubadours" for sale.
www.steveharrisphoto.com 713 385-9055
At Artful History, we believe that ""findings"" don't come in packs of ten at the craft store. We use true articles from history in all of our pieces. Crafting unique jewelry and decor items from vintage findings. 936-697-5197 www.artfulhistory.com
Tempera and acrylic on paper -- originals and prints.
A collection of vibrant abstracts, wild creatures, and dancing fruits and vegetables.
713-973-9173 My paintings, My music

Metalicity Mobile

Sculpture, art metal and jewelry designed and fabricated by Jeff Woodruff
www.metalicity.com 512-496-4375
Since an early age he has loved drawing, animations, music and all kinds of art. He is an accomplished bass guitar musician, and has recorded an album with Warner Music with his own band. Today, he continues to design, create and animate his own characters using computer animation. After years of experience working and teaching in the computer graphics field, he has begun to work hands on with various sculpting media.
http://www.serpentcoatl.com http://facebook.com/HernandezArtist
I have been crocheting since I was eight years old. I like to work in a very small scale, producing tiny lace doilies, encircled in sterling silver as jewelry. I also make larger doilies from vintage patterns and frame them under glass.
http://mccordworks.com 713-899-2814 Newsletter, bio & more!
Unique design in women's jewelry using Swarovski Crystal, the finest stone and pearls available, and .925 sterling silver. 713-385-0459 www.ticjewelrydesigns.com
Pens, Ink by Jerry Harmsen
Hand turned wooden pens made from fine exotic hardwoods,
also key chains, pocket watches, letter openers, perfume atomizers and more.
713-771-7626
addtothepagelist
I make recycled art using found and repurposed items from around the Houston area. Fun, colorful, unique, funky and eco-friendly are the ways I would describe the items that I create.
520-979-0333 http://www.facebook.com/NatesRecycledArt
Cammie's Handmade Soaps

All natural, handmade designer soap bars with great designs and scents. Also, exfoliating sugar scrubs and wonderfully scented body and linen sprays. Don't miss Shampooch, my all natural dog flea shampoo bar, and SCRAM!, my all natural insect repellent.
281-392-1097
www.cammieshandmadesoaps.com
The Cultured Critter Collective is home to unique monsters, animals, and other fun creatures. I strive to impart whimsy, humor, color, and lots of different textures into my work. All of my pieces are handmade (urban vinyl art toys are personally customized by hand), and one-of-a-kind. Adopt a critter today- they're always on the look-out for cool people to take them home!
http://culturedcritter.storenvy.com
Kym K - Firehouse Studio Gallery

Kym K has a light hearted colorful style, her art work is unique and varied. Kym 's technique with her furniture pieces and wall murals show creative ability in a personal vibrant fashion. Her subject matter ranges from Jungle Rain Forrest to Louis Vuitton Luggage ... & her Duct Tape Roses are sure to make you smile!
http://www.firehousestudiogallery.com
I am an artcar artist and creator of THE WOMEN ROCK ARTCAR. I do caricatures of people on TEXAS river rocks. I can do about 10 in an hour. I hand pick every rock I use from different rivers in Texas, I have drawn close to 5000 people on rocks and love to tell people YOU ROCK as I hand it to them.
www.womenthatrocks.com 713-649-6931
Gloria Jane Favuzza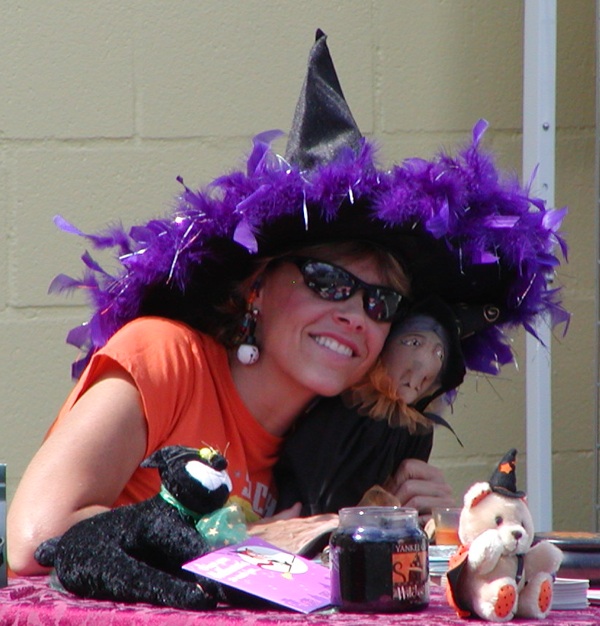 Astrologer/Tarot/Birth/Destiny/Love Card Readings
Office: (713) 953-1338, Cell: (281) 615-3446
www.gloriafavuzza.com