Music & Entertainment! Sponsored in part by
BullsEye

Storage
 Scroll down for 2014!

April
Noon - Lager Rhythms
3 pm - JoAnna Jetton and the Fun Country Band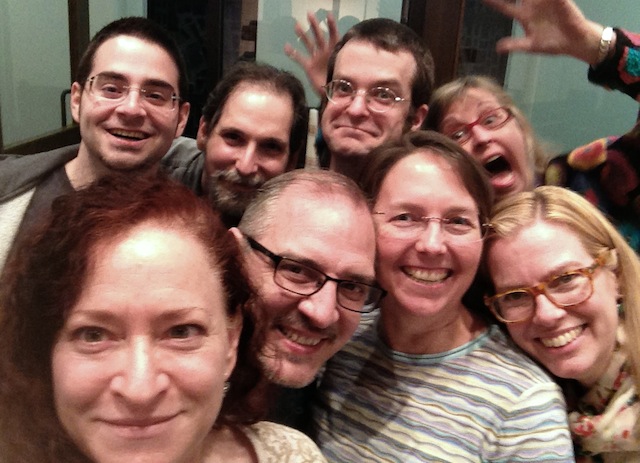 Lager Rhythms
In the summer of 1994, a handful of science and engineering grad students at Rice University got together to do some harmonizing. By the end of the summer, the group was up to eight members, and were officially performing in public. Primarily in front of Valhalla, the grad student bar most of them bartended in.
Over the years Lager Rhythms has lost and gained a variety of members, and have played all over Houston: coffee shops, bars and pubs, several Rice University venues, the Mucky Duck, Anderson Fair, Saint Arnold Brewery, and even at the (now renamed) Summit — the national anthem for a hockey game. When you think about it, we've outlasted about 80% of our venues.
After 20 years and four CDs, Lager Rhythms has gone from being a pick-up a cappella group to an older pick-up a cappella group. It's still what we do for fun.
They're having a 20th Anniversary Brew-ha-ha at Saint Arnold Brewery on August 9th, tickets available soon. Information at https://www.facebook.com/lagerrhythms www.lagerrhythms.com
JoAnna

Jetton and the Fun Country Band
JoAnna Jetton and friends have been entertaining market artists and patrons for the past 7 years. Playing as herself with Lou Wilcox and alternately with her bands The Humbuckers and The Fun Country Band, when JoAnna is on the scene, the toe tapping and boot stomping doesn't stop for days!
JoAnna is also cohost of the Blue Grass show on KPFT on Sundays! Listen in: http://www.bluegrasszone.com/
May 3rd

11 am
David Fahl

David Fahl
David Fahl is a singer/songwriter, with solid roots in blues, rock, country and folk genres. His songs cover a wide range of musical styles and subject matter, laced with original imagery, emotional depth and wry humor. He performs solo and with his band, Fahl and Folk. Listen: ReverbNation


3 p.m.
LEYBON
LEYBON
LEYBON is a Houston based band that started in 2012, made up of a bunch of college kids who share the same desire to shake up the music industry by bringing classic grooves to modern music. Members are: Madeline Edwards, Micah Edwards, Imagany Stallworth
Facebook Listen ReverbNation SoundCloud

June 7th

8 p.m.

Grifters & Shills
Grifters & Shills writes and performs timeless music with deep ties to the past and a very assertive outlook on the present. They pay homage to the paths long taken, but continue forging the trail using their own voice and style. Continue reading http://griftersandshills.com



See the full musicians roster here!



July 5th

8 p.m.
Niko Lorraine

Niko Lorraine
Niko Lorraine, a native Houstonian began competitive singing at the age of 12 & began playing acoustic guitar at the late age of 28 when a dear friend bought her a Gibson Epiphone which she learned to play independently. In 2001, after 911 she decided to severe all ties in pursuit of her dreams in a duo Called Symplicity w/ band mate & best friend B.J. Rose. Her influences include Ani Difranco, Billy Holiday, the Indigo Girls & Johnny Cash to name a few. She is by her own declaration the daughter of the marriage of Folk & Rock. Listen now -> Click here!