June 4, 2011 6-10 p.m.
Artist Kim Kaiser was born in The Netherlands and moved to The United States when she was 14 years old. Kim works predominantly in watercolor, but paints in oil as well. She received her Bachelorís Degree in Fine Arts at Texas State University in 2005 and has since then been working as a freelance artist. Kim currently lives and creates in Garden Oaks, Houston with her husband, 2 year old daughter and 14-year-old Golden Retriever.
 


832-561-8272 www.kimkaiserstudio.com/
I create pysanky using the traditional Ukrainian technique of writing on eggshell with hot beeswax, then dyeing the egg in various colors. After the final color, the wax is removed and the egg is varnished to protect the dyes. I use various sizes of eggs, ranging from quail to rhea, all emptied and thoroughly cleaned. I create eggs in both traditional and contemporary designs, and can create custom designs for special occasions. 281-543-8020 www.eggsbyMarilyn.com
My work includes landscape photography & wildlife photography. My landscapes come mostly from Texas, but some are from outside the state. I try to capture landscapes in the mood I feel from the scene. My wildlife photography ranges from portraits to environmental portraits and action shots.
713-416-1516 www.wryphotography.com
fLuxe Jewelry - Kristen Kramlich

Unique hand forged and oxidized jewelry.
fLuxe Jewelry flirts with a balance between soft and edgy forms and is inspired by many styles, including art deco, Aztec pottery, & modern graphic design. fLuxe Jewelry is a line made from copper sheet metal and patina chemicals. Soft, playful colors compliment the sharp, geometric edges. 713.299.6286 fLuxeJewelry.com
My work consists of minimalistic sculpture with a mathematical foundation. Specific parts of a form can be given more emphasis with the addition of vibrant colors of spray paint. I continually cross over from abstract to realistic as I seek out new shapes inspired by unusual lifeforms. 281.455.8261

Currently I am generating abstract, expressionist paintings using primarily acrylics as my tool of experimentation. Toss a Pop Art influence into the mix to round out what impacts my style. Mixed media is an increasing influence with many works incorporating plaster, copper wire, organic elements - sand, salt, rock, glass as well as print media. A few even include a favourite old shirt to worn to wear again. My art is diverse in subject and is extremely colorful and textural. It should provoke more than one sense in you.
832-248-8486 eugenejohnhughes.com
At Artful History, we believe that ""findings"" don't come in packs of ten at the craft store. We use true articles from history in all of our pieces. Crafting unique jewelry and decor items from vintage findings. 936-697-5197 www.artfulhistory.com
I am a multimedia artist focusing on the formal aspects of Art--line variation, texture, rhythm, color, space, etc. My original drawings, watercolor paintings, and other elements are encased within layers of mixed-mediums. The nature of the mediums dictate the compositions and ensure that no two are alike. They are created on custom made wood panels which eliminates the need for framing. www.amandaarmistead.com 281-796-7445
Claudia Powell

Claudia paints with oils and mixed media on canvas in a style reminiscent of the Mexican muralists of the late 19th and early 20th century, yet her work stands on its own today. Email Claudia

Laura Lopez Cano Art Studio

Laura Lopez Cano paints memorable images that disclosed memorable images of her culture. She has exhibited in numbers galleries and fine art shows throughout the country and has been invited to display at the United Nations. Today with her son Louis who is autistic, they are painting and exhibiting together. Together they have a wide range of images profiling two very different perspectives of the same theme.
http://www.lauralopezcano.com 281-532-1278
Unique one-of-a-kind hand-crafted necklaces and earrings. Majority are designed with semi-precious stones and love. Visit my web site to view the Calendar for my up and coming shows.
www.kcoriginaldesigns.com (281) 357-5180
Heartwood Creations by James Watson

Native and exotic wood Is turned to shape and voids may be inlaid with crushed stone or metal filings.
Read the article in The Journal of Friendswood
281-992-0603 heartwoodcreations-jrw.com
Karla Cisneros of Blue Crab Studio

Blue Crab Studio specializes in the design and creation of one-of-a-kind furnishings and
accessories that celebrate the beauty of seashells and the pleasures of seaside living.
713-862-9088
www.bluecrabstudio.com
Ceiling Fan Pulls, sculptures and mobiles made with original lampwork beads, Swarovski crystal, glass and wire.
281-650-9076
www.GlassArtAndBeads.com
Cammie's Handmade Soaps

All natural, handmade designer soap bars with great designs and scents. Also, exfoliating sugar scrubs and wonderfully scented body and linen sprays. Don't miss Shampooch, my all natural dog flea shampoo bar, and SCRAM!, my all natural insect repellent.
281-392-1097
www.cammieshandmadesoaps.com
My designs are original and created from organic or recycled materials. Pieces tend to be asymmetrical with unexpected texture or pattern combinations. Everything is handmade caters to a younger crowd who is always on the go. Earthy hues and intricately simple designs makes my work unique, timeless and practical.
http://www.macarizeschmiz.com
The majority of my work is pen on paper. Their abstract, surreal, sweeping lines from nature often contast against structured lines of society. The multifarious detail is complicated and unique. Though often working in black and white, I find great joy in bright and brilliant colors. I offer both originals and limited addition prints. I also experiment with Acrylics on large canvases, dabble in mixed media, and play the photographer in natural and remote settings. Read more here.
936-544-0003 http://www.jamiejartist.com
Lang's Design Studio - Lisa Lang

With a view of the trees at my table I sit, kneading and working the clay. Until forms and shapes appear. After they are baked and cooled, they are glazed, hand painted or left naked. Then they are crafted into necklaces, earring or bracelets.
713-446-4035 Facebook- Lang's Design Studio
I make recycled art using found and repurposed items from around the Houston area. Fun, colorful, unique, funky and eco-friendly are the ways I would describe the items that I create.
520-979-0333 http://www.facebook.com/NatesRecycledArt
My paintings are inspired by his personal experiences and feelings. My creative side lives in the darker part of my psyche, as a result my paintings tend to be dark and are inspired by adult themes. I have style that focuses on detail and color.
http://www.pedrohguevara.com
The Hanging Pendant by Michelle Hickman

"The Hanging Pendant by Michelle Hickman"
The Hanging Pendant believes in the uniqueness of each person. The word Unique is defined as -the one and only, having no like, unusual, rare, extraordinary, different, uncommon, distinctive, special. The word Individual is defined as -single, separate thing or being, particular, distinguished from others by special characteristics. The word You is defined as -Yourself, all of you, you alone. Our pieces are designed for an uncommon, distinctive, particular, separate being that is rare and extraordinary and special, a single being... You!
www.thehangingpendant.com 936-788-3008
Unique design in women's jewelry using Swarovski Crystal, the finest stone and pearls available, and .925 sterling silver. 713-385-0459 www.ticjewelrydesigns.com
Abstract paintings in acrylics and oils.
281-413-6203
http://www.urbani.smugmug.com
One of a kind dichroic jewelry. Art to wear = Earrings, Pendants and Art Glass. By artist Jeanne Haner.
http://www.jhjewelrystudio.com

Acrylic, House Paint, Mixed Media, Collage, etc. on Wood, Canvas, Metal, Board, Found Pieces, etc., and Found Object Sculpture. Basically, whatever I can lay my hand to. I can do a lot with a little.
281-572-1563
Mary G. Wilkinson Painter/Printmaker

Light and texture studies. My subject matter is abstracted from the garden
and other immediate surroundings, usually but not limited to botanicals. Read more.
713-772-7469

For nearly a decade, artist Pettus Mitchell has traveled around the United States gleaning inspiration for his future works as well as displaying his art at local festivals and art galleries. His paintings run the gamut from historical portraits of the African Americans migration north in the 1940s to their current return to the modern south. Some of his pieces are inspired by cultural phenomena specific to the late 20th century, such as the popularity of video games and the rise of the digital era. Pettus himself is an accomplished graphic artist; he is also a CGI animator. His work is prominently featured at the Center for Southern Folklore and he is a mainstay at the Centerís annual Memphis Music & Heritage Festival. Mitchell made his first appearance at First Saturday Arts Market in March 2011.
901-361-4231
Metalicity Mobile

Sculpture, art metal and jewelry designed and fabricated by Jeff Woodruff
www.metalicity.com 512-496-4375
Artist and potter John Delafield makes a wide range of wheel thrown stoneware pottery
using rich earthtone clay and glazes designed for everyday use.
www.delafieldpottery.com
What is Steam Punk Jewelry? It gets its popularity from a growing resistance to corporate modernization, the mass commercialization of virtually everything, coupled with the surge of nostalgia for all things vintage and antique.
All jewelry is hand assembled, one of a kind and created by me and is 99% re-purposed or recycled found pieces,Broken unrepairable vintage jewelry,wind up watches, gears and other found objects that were considered "junk" and ready to be tossed away. I have rescued them and made beautiful Art pieces to be worn and cherished.
www.etsy.com/shop/sailorsamsteampunk 832-748-2470 See more!
Gloria Jane Favuzza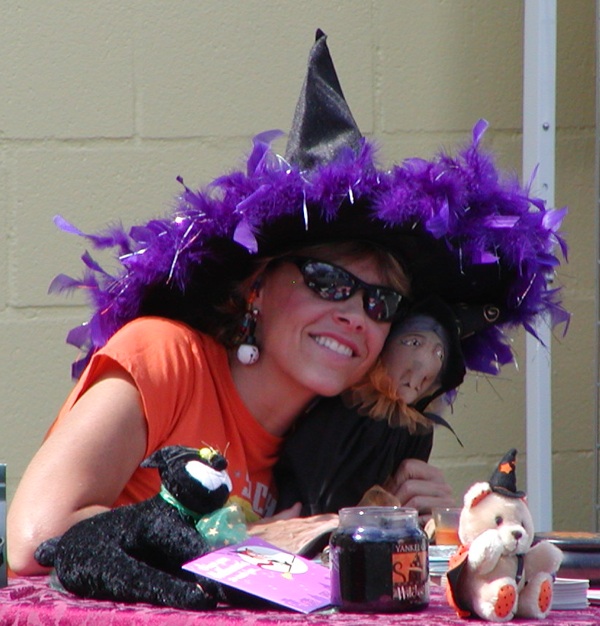 Astrologer/Tarot/Birth/Destiny/Love Card Readings
Office: (713) 953-1338, Cell: (281) 615-3446
www.gloriafavuzza.com