January 7, 2012
Artist and potter John Delafield makes a wide range of wheel thrown stoneware pottery
using rich earthtone clay and glazes designed for everyday use.
www.delafieldpottery.com
Melody Goyer

Hi, I am a decorative artist that loves painting on reclaimed materials and giving them a fresh start to their next life. Old cabinet doors, furniture, and even old entryway doors can be given a new purpose with a little creativity. The cabinet doors were created for clients using our furniture finishes on their existing cabinetry, that I then turned into art for others to love.
Facebook Reclaim, repurpose and create art!!!
My paintings are based from direct observation. I take my French easel out into the city I call home, Houston TX. The subject matter, although always changing, is often the confluence of what I love about Houston; it's buildings, bayous, highways, tree lined streets and lush parks and gardens. I hope you can see the beauty of Houston in my Urban Landscapes. 713-305-6626 http://deatlyart.com
Currently I am generating abstract, expressionist paintings using primarily acrylics as my tool of experimentation. Toss a Pop Art influence into the mix to round out what impacts my style. Mixed media is an increasing influence with many works incorporating plaster, copper wire, organic elements - sand, salt, rock, glass as well as print media. A few even include a favourite old shirt to worn to wear again. My art is diverse in subject and is extremely colorful and textural. It should provoke more than one sense in you.
832-248-8486 eugenejohnhughes.com
In creating my pieces, I want viewers to feel them as much as they see them. I combine realistic images with the elemental use of color and texture. I strive to induce a feeling that renders words somewhat inadequate.
www.vivianmoraart.com 713-385-5548
Cammie's Handmade Soaps

All natural, handmade designer soap bars with great designs and scents. Also, exfoliating sugar scrubs and wonderfully scented body and linen sprays. Don't miss Shampooch, my all natural dog flea shampoo bar, and SCRAM!, my all natural insect repellent.
281-392-1097
www.cammieshandmadesoaps.com
Designing Re-Purposed Jewelry utilizing vintage components is one of my favorite creative endeavors. I enjoy assembling elements into something re-envisioned and one-of-a-kind. Elements may include brooches/pins, sash pins, dress/fur clips, watch fobs, cufflinks, bracelets, earrings, and shoe clips. Other elements may include vintage keys, car emblems, clock ornamentation, belt buckles, buttons, rosary beads, chandelier crystals, and anything else that may lend itself well to design. (continue here) Facebook http://www.sunartstudio.com/
Currently I have been transitioning from 2D drawing to 3D sculptural fiber art. In my drawings I use color pencil to create landscapes with texture and depth. In my 3D work I use crochet, knitting and wet felting and other fibers like jute,silk,lace, burlap to create texture and highly charged color. (214) 708-0293
My creations are handmade and one-of-a-kind, with unique vintage elements carefully handpicked from antique markets in France. In designing my creations I combine vintage elements with modern material creating eclectic, elegant and playful pieces, recalling days gone by. http://www.perleamies.com
Pens, Ink by Jerry Harmsen
Hand turned wooden pens made from fine exotic hardwoods,
also key chains, pocket watches, letter openers, perfume atomizers and more.
713-771-7626
addtothepagelist
One of a kind dichroic jewelry. Art to wear = Earrings, Pendants and Art Glass. By artist Jeanne Haner.
http://www.jhjewelrystudio.com

Linda Hardy is a self taught mixed media artist. Her pieces are a mixture of folk art, sculpture and mixed media, using an assortment of papers, acrylics, silver leaf, vintage hardware and embellishments. Commissions welcome. 832-434-6332
Mary G. Wilkinson Painter/Printmaker

Light and texture studies. My subject matter is abstracted from the garden
and other immediate surroundings, usually but not limited to botanicals. Read more.
713-772-7469

Metalicity Mobile

Sculpture, art metal and jewelry designed and fabricated by Jeff Woodruff
www.metalicity.com 512-496-4375
Beyond Her is a collection of artisan housewares, apparel and gifts. We start with original designs, which we screen print on heritage fabrics or print using recycled paper. The look is fresh and modern - meets - natural and organic. We call it Art for Living.
Beyond Her has new lines for fall, including pet accessories (Beyond Fur) and home furnishings (Beyond Her @ Home)
www.beyondher.com

What is Steam Punk Jewelry? It gets its popularity from a growing resistance to corporate modernization, the mass commercialization of virtually everything, coupled with the surge of nostalgia for all things vintage and antique.
All jewelry is hand assembled, one of a kind and created by me and is 99% re-purposed or recycled found pieces,Broken unrepairable vintage jewelry,wind up watches, gears and other found objects that were considered "junk" and ready to be tossed away. I have rescued them and made beautiful Art pieces to be worn and cherished.
www.etsy.com/shop/sailorsamsteampunk 832-748-2470 See more!
Unique design in women's jewelry using Swarovski Crystal, the finest stone and pearls available, and .925 sterling silver. 713-385-0459 www.ticjewelrydesigns.com
Acrylic, House Paint, Mixed Media, Collage, etc. on Wood, Canvas, Metal, Board, Found Pieces, etc., and Found Object Sculpture. Basically, whatever I can lay my hand to. I can do a lot with a little.
281-572-1563
The Great San Saba River Pecan Company

Gourmet Preserves all have Pecans in them. Peach Pecan Amaretto, Raspberry Pecan,
Jalapeno Peach Pecan,Orange Pecan. Pecan Pie in the Jar. 281-342-8117
Great Pecans.Com
All natural exquisite henna tattoos painted on skin freehand by myself, a third generation Henna Artist, it will surely leave you mesmerized. Also you will see a beautiful display of unique and intricate painting done with Henna and acrylic on canvas, glass and gourds with vibrant colors. www.hennacompany.com

Nationally published photographer who captures nature's small but wondrous subjects in gorgeous, natural light! I mainly photograph flowers, beautiful insects, dew drops, and occasionally Grizzly Bears.
http://ledbythelightme.com 713.247.9388
I create hand-crafted wood projects and personalized gifts. These range from recipe boxes and engraved boxes to elevated dog dish holders and children's step stools; Christmas decorations and engraved Celtic Crosses; and Wayfinders - which are cross-section cuts of pear tree branches with inlaid compass, strung on leather cord with decorative beads. 713-703-0751 Visit my Etsy shop
Paintings created using mixed media (chalk, acrylic, pastel). Sizes range from 10"x12" to 4'x8'. Prices range from $40 - $4000
www.kitskids.com 281-257-8455
Gilber M. Levy

My art is oil on canvas painted in surrealist manner. It is mostly demonstrate the over whelming nature of modern technology, its effect on life quality that has meaning, freedom of chice, human sense of scale, and individual creativity. Technology has always been a major mean for creating new physical and human environment. It is possible to ask, whether technology will also destroy the global civilization that human being have been created. No one can predict the impact of technology and its consequences on the social cultural and economical environment.
(713)857-3268
The Peckham Art Center

All work was hand done by me. I have a mix of oils, acrylics, watercolors, pastels, charcoal, pencil, and large scale paintings.
I'm a full time student at Glassell. I have been painting now for about five years. I love painting and making something out of nothing.
713-962-8828
fLuxe Jewelry - Kristen Kramlich

Unique hand forged and oxidized jewelry.
fLuxe Jewelry flirts with a balance between soft and edgy forms and is inspired by many styles, including art deco, Aztec pottery, & modern graphic design. fLuxe Jewelry is a line made from copper sheet metal and patina chemicals. Soft, playful colors compliment the sharp, geometric edges. 713.299.6286 fLuxeJewelry.com
My work consists of minimalistic sculpture with a mathematical foundation. Specific parts of a form can be given more emphasis with the addition of vibrant colors of spray paint. I continually cross over from abstract to realistic as I seek out new shapes inspired by unusual lifeforms. 281.455.8261

Gloria Jane Favuzza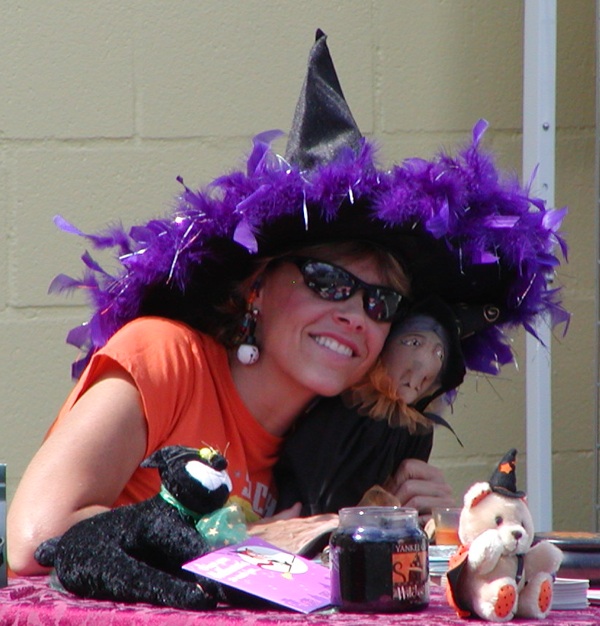 Astrologer/Tarot/Birth/Destiny/Love Card Readings
Office: (713) 953-1338, Cell: (281) 615-3446
www.gloriafavuzza.com