January
2009
Artists!
HarperHouse Studio by Janis Harper

Fine Art for Home and Fashion; Oils, Collage, Photography, Purses, Necklaces
936-258-9492
www.harperhousestudio.com

In Memoriam, Carole McCann

Carole Hanna McCann died peacefully in her sleep on Saturday, September 17, 2011; she had struggled with cancer for several months. She is survived by her brother, Father Jack Hanna, C.S.B. of St. Thomas High School and several cousins. Carole graduated from Incarnate Word Academy and the University of St. Thomas. She was named the UST outstanding alumna of the year in 2009. Carole was an extraordinary teacher of Musical theater and Dance in Houston and was able to share her talents all over the world with American Voices.
Miss Carole was a guest of First Saturday Arts Market and sold her wonderful knitted scarves to fund her summer trips. Read more about Miss Carole on her website: www.carolemccann.com.
Thank you Miss Carole, we are going to miss you!
Courtney Marie Jewelry

All hand fabricated sterling silver jewelry sometimes accented with semi-precious stones. Custom orders welcome!
www.courtneymariejewelry.com
1-866-393-3637
Nathalie & Beth Storey

Fun and fine art doggie portraits. Watercolor pencil, ink and crystal collage works.
Fabulous, fun and functional recycled glass art!
www.storeystudios.com 281-813-9358
All That Dangles was created by Deborah Clendennen to express her passion for the arts through wire wrap jewelry
and wire sculpture. All That Dangles jewelry is not just jewelry, but one of a kind designs and wearable art.
www.allthatdangles.com 281-748-9592
Tempera and acrylic on paper -- originals and prints.
A collection of vibrant abstracts, wild creatures, and dancing fruits and vegetables.
713-973-9173 My paintings, My music

The Great San Saba River Pecan Company

Gourmet Preserves all have Pecans in them. Peach Pecan Amaretto, Raspberry Pecan,
Jalapeno Peach Pecan,Orange Pecan. Pecan Pie in the Jar. 281-342-8117
Great Pecans.Com
One of a kind dichroic jewelry. Art to wear = Earrings, Pendants and Art Glass. By artist Jeanne Haner.
http://www.jhjewelrystudio.com

Paige Woodring

Abstract Acrylic and oil painting.
(713) 301-8767
www.woodringfineart.com
Artist and potter John Delafield makes a wide range of wheel thrown stoneware pottery
using rich earthtone clay and glazes designed for everyday use.
www.delafieldpottery.com
Signs of Spirit

My carvings are solid pieces of western red cedar. Each symbol is drawn using a compass and ruler and/or freehand.
I use the scroll saw to prepare my "canvass" for carving. Each sculpture has depth, contour and details lovingly added
with rotary tools, grinders and chisels. I sand each carving 3 times to 220, finishing the piece with a blend of clear oils.
For pictures of my work, and descriptions of the symbols, please visit my website.
www.signsofspirit.com 262-705-8895
Bringing To You The Finest California Award Winning 100 % Extra Virgin Olive Oils. Our olives are pressed naturally with fruit, herbs and peppers resulting in truly flavorful olive oils: ''Orange, Lemon, Lime, Rosemary, Basil, Garlic, Jalapeno and Habenero.'' Our Mission, Sevillano and Manzanillo varieties are harvested in the Fall, Winter and Spring, bringing the same olive oil variety in 3 exquisite seasonally fruity flavors.
Free Olive Oil Tasting - Just Like Fine Wine
281-693-7073 www.kdsgourmetfoods.com
Black and white and color fine art photography, which includes framed, unframed and matted, and a series of folk art 12"x12", hand made wooden boxes which showcase the images in a very unique way. I will also have my recent book, "Texas Troubadours" for sale.
www.steveharrisphoto.com 713 385-9055
Pastels by Jerrie

Pastel on Canson Paper and Ampersand Pastel Board Floral, landscape and birds 832-428-9620
www.jerrieglidden.com
Beyond Her is a collection of artisan housewares, apparel and gifts. We start with original designs, which we screen print on heritage fabrics or print using recycled paper. The look is fresh and modern - meets - natural and organic. We call it Art for Living.
Beyond Her has new lines for fall, including pet accessories (Beyond Fur) and home furnishings (Beyond Her @ Home)
www.beyondher.com

Metalicity Mobile

Sculpture, art metal and jewelry designed and fabricated by Jeff Woodruff
www.metalicity.com 512-496-4375
Carved wood; statues, relief drawings, & pendants from cedar, mesquite, and hardwoods.
(713)862-3225

Chef Beau

Original rubs and great breads, fresh baked! Across from the "Olive Oil Guy!"
Call Chef Beau anytime to order in advance! (713) 204-3751
Jackie Haliburton

Acrylic paintings on canvas. Paintings of rural country scences similarly grandma moses.
281-856-0148
Mary G. Wilkinson Painter/Printmaker

Light and texture studies. My subject matter is abstracted from the garden
and other immediate surroundings, usually but not limited to botanicals. Read more.
713-772-7469

Medium is scrap steel. The works follow a number of different themes from floral to intensely human.
713-805-7639
www.adams-ferro.com
Gloria Jane Favuzza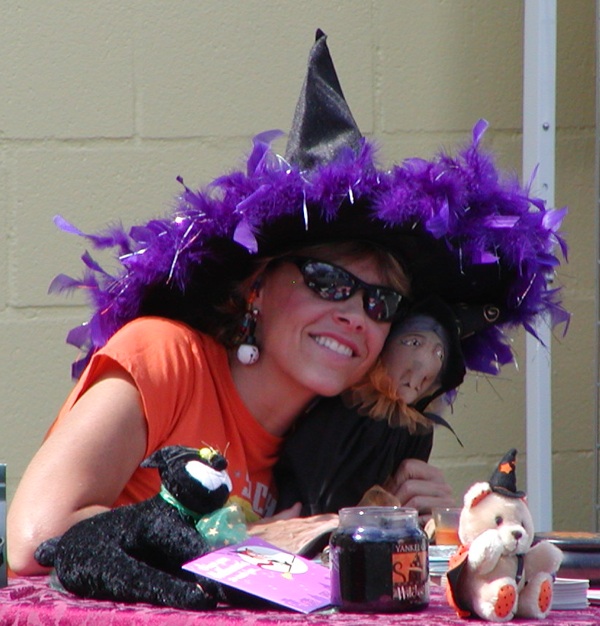 Astrologer/Tarot/Birth/Destiny/Love Card Readings
Office: (713) 953-1338, Cell: (281) 615-3446
www.gloriafavuzza.com