February 5, 2011
Christine Tremoulet, a market alumni, will be at the market this month for Hot Mama Boudoir! An all mom run business, located in the Heights on Studewood, they specialize in boudoir sessions just for moms, the perfect gift for your sweetheart - and for yourself! Stop by, check out her work, and get information on her Art Market special!
http://hotmamaboudoir.com
Linda Hardy is a self taught mixed media artist. Her pieces are a mixture of folk art, sculpture and mixed media, using an assortment of papers, acrylics, silver leaf, vintage hardware and embellishments. Commissions welcome. 832-434-6332
Colorfly Studio Art by Jennifer DeDonato


My artwork is inspired by my love of reading and music. I want to make beautiful things and live a beautiful life - it's that simple. http://www.colorflystudio.com 281-726-8297
Laura Lopez Cano Art Studio

Laura Lopez Cano paints memorable images that disclosed memorable images of her culture. She has exhibited in numbers galleries and fine art shows throughout the country and has been invited to display at the United Nations. Today with her son Louis who is autistic, they are painting and exhibiting together. Together they have a wide range of images profiling two very different perspectives of the same theme.
http://www.lauralopezcano.com 281-532-1278
Lynn Chatman

My current work focuses on the emotional and healing impact of art and painting through the use of color, symbols, and texture. While I have always loved working in oil, most of my current work explores the versatility and unique expression of acrylics.
832-329-1054 www.lynnchatman.com
Wiley Robertson Art

I'm a contemporary artist who does both abstract painting work as well as landscapes, and day of the dead style work.www.wileyrobertson.com
http://www.wileyrobertson.com 832-289-9880
Beth Duke-Hunold

Animals, western, portrait, landscape and more.
210-364-3310 http://bethduke.net
Painting is a hobby I started a few years ago in grad school as a break from reading and writing. As I've learned to love the process and product of working with acrylics, my compositions have evolved from what I whimsically call "doodles" and "non-talking heads." Continue reading
903 244-6300
Gary Bachers' work is created with Prismacolor pencil on Duralar film. The result of his intricate layering is a vibrant work resembling paint. The full moon is usually present in his work as well as other signature features.
903-244-2447 www.garybachers.com
Abstract paintings in acrylics and oils.
281-413-6203
http://www.urbani.smugmug.com
Acrylic, House Paint, Mixed Media, Collage, etc. on Wood, Canvas, Metal, Board, Found Pieces, etc., and Found Object Sculpture. Basically, whatever I can lay my hand to. I can do a lot with a little.
281-572-1563

Photographic images that strongly resemble a letter of the alphabet.
Selected letters are then used to spell a person's name, occupation, etc. 832-221-1432

Big Bear by John Manes

An art medium used by the Native American culture when they were placed on reservations and no longer
had their hides or Tipi's on which to tell their stories.
www.bigbearartist.com 713-569-9274
Mary G. Wilkinson Painter/Printmaker

Light and texture studies. My subject matter is abstracted from the garden
and other immediate surroundings, usually but not limited to botanicals. Read more.
713-772-7469

One of a kind dichroic jewelry. Art to wear = Earrings, Pendants and Art Glass. By artist Jeanne Haner.
http://www.jhjewelrystudio.com

Everyday Accents

Hip, Handmade, Crocheted Hats and Accessories.
On Facebook or www.EverydayAccents.etsy.com
I have been crocheting since I was eight years old. I like to work in a very small scale, producing tiny lace doilies, encircled in sterling silver as jewelry. I also make larger doilies from vintage patterns and frame them under glass.
http://mccordworks.com 713-899-2814 Newsletter, bio & more!
Beyond Her is a collection of artisan housewares, apparel and gifts. We start with original designs, which we screen print on heritage fabrics or print using recycled paper. The look is fresh and modern - meets - natural and organic. We call it Art for Living.
Beyond Her has new lines for fall, including pet accessories (Beyond Fur) and home furnishings (Beyond Her @ Home)
www.beyondher.com

Hand crafted limited edition and one-of-a-kind jewelry with an emphasis on wire wrapping. Materials used include precious metal clay, sterling silver and 14k gold filled findings, Bali & Thai Hill Tribe silver, precious & semi-precious gemstones, designer lampwork beads, crystals and various other specialty findings.
713-303-7353 www.petalsmetals.com
Michelle Hoting Jewelry Artist

With her love of the outdoors, it is only fitting that jewelry artist Michelle Hoting's designs are a direct reflection of nature. Her pieces combine the elements and textures of nature with the use of natural stone, fine silver, sterling and copper often combined with found natural objects such as acorns and twigs, seeds and leaves. 707-791-4680 www.MichelleHoting.com Email Michelle

Designing Re-Purposed Jewelry utilizing vintage components is one of my favorite creative endeavors. I enjoy assembling elements into something re-envisioned and one-of-a-kind. Elements may include brooches/pins, sash pins, dress/fur clips, watch fobs, cufflinks, bracelets, earrings, and shoe clips. Other elements may include vintage keys, car emblems, clock ornamentation, belt buckles, buttons, rosary beads, chandelier crystals, and anything else that may lend itself well to design. (continue here) Facebook http://www.sunartstudio.com/
My favorite styles are art deco and art nouveau. My favorite elements to incorporate are Victorian pieces with lovely authentic patina. Elements may have evidence of their former life through their "scars" (nicks, dings, wear, chips, etc.) which only adds to their authenticity.
Altered and Assembled by Hand by me, Darlene Besier
Thank you for your interest & support!
 © 2015 Sun Art Studio .com

Artistic Bijoux

Artistic Bijoux jewelry creations are uniquely crafted by myself, Sophia. All of my jewelry utilize fused glass focal pieces that make each design distinctive. I use primarily dichroic glass because its brilliant colors best reflect my memories of Greece's natural beauty. My collection includes necklaces, pendants, earrings, bracelets and rings.
http://www.artisticbijoux.com 713-924-7387
Metalicity Mobile

Sculpture, art metal and jewelry designed and fabricated by Jeff Woodruff
www.metalicity.com 512-496-4375
What is Steam Punk Jewelry? It gets its popularity from a growing resistance to corporate modernization, the mass commercialization of virtually everything, coupled with the surge of nostalgia for all things vintage and antique.
All jewelry is hand assembled, one of a kind and created by me and is 99% re-purposed or recycled found pieces,Broken unrepairable vintage jewelry,wind up watches, gears and other found objects that were considered "junk" and ready to be tossed away. I have rescued them and made beautiful Art pieces to be worn and cherished.
www.etsy.com/shop/sailorsamsteampunk 832-748-2470 See more!
Gournals by Amie Krebbs

All Gournals are hand bound using 100% recycled hemp paper, re-used cardboard, and other salvaged/recycled materials.
www.gournals.etsy.com
(816) 807-8053
Heartwood Creations by James Watson

Native and exotic wood Is turned to shape and voids may be inlaid with crushed stone or metal filings.
Read the article in The Journal of Friendswood
281-992-0603 heartwoodcreations-jrw.com
Art Turnings By Paula J Haymond

My work starts with the wood spinning on the lathe. As the roughing out process progresses, the form begins to emerge from the interaction of the wood, images it conveys to me and the skills I have mastered over the last 6 years of turning. I strive to combine form, grain pattern, fantasy and surface treatment to create art which is orginal, pleasing and whimsical as well as functional.

I make recycled art using found and repurposed items from around the Houston area. Fun, colorful, unique, funky and eco-friendly are the ways I would describe the items that I create.
520-979-0333 http://www.facebook.com/NatesRecycledArt
Yanni's Jewelry Designed

Exquisite handmade jewelry utilizing various mediums including, but not limited to precious gems, sterling silver, wire work and knotting. My necklaces have matching or coordinating earrings and bracelets and I accept special orders. I have designed and made by hand decorative details for western hats during the rodeo. This is just one example of my ability to work with clients on any special requests they may have.
832-434-8967
Unique design in women's jewelry using Swarovski Crystal, the finest stone and pearls available, and .925 sterling silver. 713-385-0459 www.ticjewelrydesigns.com
Cammie's Handmade Soaps

All natural, handmade designer soap bars with great designs and scents. Also, exfoliating sugar scrubs and wonderfully scented body and linen sprays. Don't miss Shampooch, my all natural dog flea shampoo bar, and SCRAM!, my all natural insect repellent.
281-392-1097
www.cammieshandmadesoaps.com
Rachel Combs

Licensed Massage Therapist - I'm a native Houstonian and local Heights artist who enjoys creating functional art. 713-557-0107
What's Up Cupcake!

Freshly baked and decorated Cupcakes in a variety of flavors: Chocolate Truffel, Vanilla, Strawberry, Lemon, Red Velvet and more. The best buttercream frosting in town. The Heights best cupcakes- look for us in our 1954 Airstream Trailer! Locally owned and operated right here in the Houston Heights.
713-594-8685 www.whatsupcupcakehouston.com
Gloria Jane Favuzza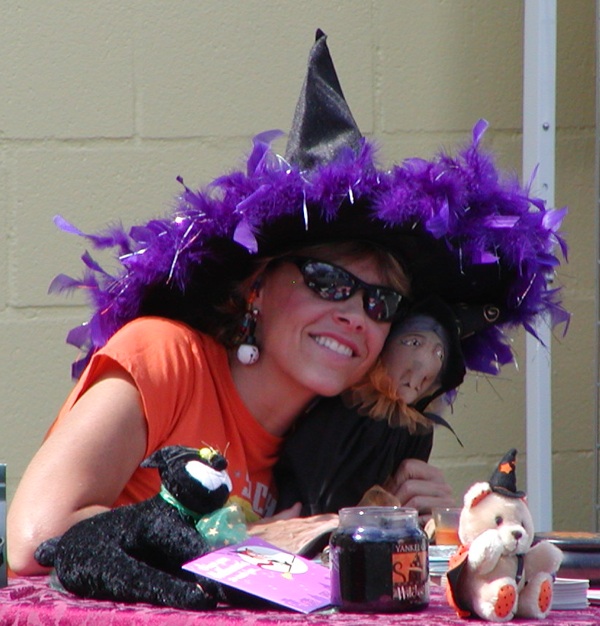 Astrologer/Tarot/Birth/Destiny/Love Card Readings
Office: (713) 953-1338, Cell: (281) 615-3446
www.gloriafavuzza.com
Paper Bling by LuAnn Harrison

Individually hand folded pieces of Origami mixed with a variety of beads to form unique necklaces and earrings.
No two pieces are exactly alike. Read More!
paperbling.com 713-410-3886
Shadow boxes - A shallow rectangular box with a transparent front used to protect and display small items. A lot of creativity goes into making shadow boxes. I use found objects, personal mementos, imagination and various media.
832-603-3594 http://www.milagritosdearte.com
I am an artcar artist and creator of THE WOMEN ROCK ARTCAR. I do caricatures of people on TEXAS river rocks. I can do about 10 in an hour. I hand pick every rock I use from different rivers in Texas, I have drawn close to 5000 people on rocks and love to tell people YOU ROCK as I hand it to them.
www.womenthatrocks.com 713-649-6931
Tempera and acrylic on paper -- originals and prints.
A collection of vibrant abstracts, wild creatures, and dancing fruits and vegetables.
713-973-9173 My paintings, My music

Artist and potter John Delafield makes a wide range of wheel thrown stoneware pottery
using rich earthtone clay and glazes designed for everyday use.
www.delafieldpottery.com