December 6, 2008 Artists
A Punkin Card Company is paper, stationery, and life. Started in February 2007 by Amie Needham, a Houston area artist and designer, the collection emerged as simple card creations to enhance one's life. Soon the collection rocked into the modern realm of bold colors and fun, retro patterns. All the while taking Amie Needham's designs to the next level. In the Fall/Winter '09 issue of Brides Houston Magazine!
www.apunkincardcompany.com
936-442-8750
Artist/Illustrator. Armed with an overly active imagination, a healthy dose of creativity and self-taught skills learned through trial and error, Lisa's work is whimsical, delicate, surreal and strange.
www.lisachowart.com
Gournals by Amie Krebbs

All Gournals are hand bound using 100% recycled hemp paper, re-used cardboard, and other salvaged/recycled materials.
www.gournals.etsy.com
(816) 807-8053
Adine Rotman

Original watercolor paintings, art prints, and artist cards. I specialize in pet portraits by commission.
713-742-5454
www.adineswatercolors.com
Kiki Neumann

For the last 16 years Houston folk artist Kiki Neumann has been picking up urban street cast offs and crafted them into useful home and garden items. Now after over 4000 plus birdhouses, garden benches, cabinets, and you name it she has switched her focus a bit! Her newest medium for art is found license plates. She currently has created an art studio devoted exclusively to the "factory" of handmaking over 30 unique things JUST out of license plates! Whew! And now there is a greeting card line of 60 different images of words and images made from license plates that is carried in 50 state wide retail stores. Yee haw y'all. ...... See her newest website: www.kikineumanncreations.com.
Andre Gandin

Found metal assemblage/welded and painted.
281-376-7773
www.andregandin.com
Starcat Designs

Handcrafted jewelry made with stone and glass beads, sterling silver, and hand-braided Japanese kumihimo cords. Many one-of-a-kind items.
713-683-1678
www.starcatdesigns.com
One of a kind dichroic jewelry. Art to wear = Earrings, Pendants and Art Glass. By artist Jeanne Haner.
http://www.jhjewelrystudio.com

Jackie Haliburton

Acrylic paintings on canvas. Paintings of rural country scences similarly grandma moses.
281-856-0148
Cammie's Handmade Soaps

All natural, handmade designer soap bars with great designs and scents. Also, exfoliating sugar scrubs and wonderfully scented body and linen sprays. Don't miss Shampooch, my all natural dog flea shampoo bar, and SCRAM!, my all natural insect repellent.
281-392-1097
www.cammieshandmadesoaps.com
CRB Artworks by Cindy Babbitt

Clay designs, pottery, functional and sculptural.
713-863-1514
www.cindybabbitt.com
Featured artist June 2007

Mark Roland

THE KAPLAN COLLECTION You can share a piece of Heights history. From the 1920's until
January of 2006 Kaplan's-Ben Hur served the residents of Houston as a department store providing everything from baby blankets to Tiffany lamps. Through the generosity of Martin Kaplan and Rex Bass, fused glass artist Mark Roland was the fortunate recipient of a portion of the original glass shelving which once held these items. That shelving, complete with scratches and imperfections from decades of use, has been recycled into useful plates, bowls, and platters for a unique memory of a Houston classic.
713-202-2487
Pastels by Jerrie

Pastel on Canson Paper and Ampersand Pastel Board Floral, landscape and birds 832-428-9620
www.jerrieglidden.com
Pastel paintings of real and imagined landscapes. Brilliant colors coupled with intricate details form the basis of my artwork. Viewing my art is like going on a tour of natural or imaginary landscapes.
Email Richard
Winter St Studios
2101 Winter St, Studio A2
Houston, TX 77007
Jewelry designed and created by Connie!
www.prettyjewelrythings.com
713-592-5833
Bringing To You The Finest California Award Winning 100 % Extra Virgin Olive Oils. Our olives are pressed naturally with fruit, herbs and peppers resulting in truly flavorful olive oils: ''Orange, Lemon, Lime, Rosemary, Basil, Garlic, Jalapeno and Habenero.'' Our Mission, Sevillano and Manzanillo varieties are harvested in the Fall, Winter and Spring, bringing the same olive oil variety in 3 exquisite seasonally fruity flavors.
Free Olive Oil Tasting - Just Like Fine Wine
281-693-7073 www.kdsgourmetfoods.com
Images By Duskin

Fine arts photographer Duskin Hill captures unique moments in light from local and international sources.
This national award-winning photographer specializes in abstract, nature and architectural genres.
832-289-4244
www.duskinhill.com
Hand stamped sterling silver and copper jewelry that can be customized to include your own inspirational or meaningful word, place, name or event. These thoughtful words can remind us of our ability to accomplish amazing things, blossoming into beautiful results in our lives.
http://www.etsy.com/shop/thoughtblossoms

HarperHouse Studio by Janis Harper

Fine Art for Home and Fashion; Oils, Collage, Photography, Purses, Necklaces
936-258-9492
www.harperhousestudio.com

Metalicity Mobile

Sculpture, art metal and jewelry designed and fabricated by Jeff Woodruff
www.metalicity.com 512-496-4375
Pens, Ink by Jerry Harmsen
Hand turned wooden pens made from fine exotic hardwoods,
also key chains, pocket watches, letter openers, perfume atomizers and more.
713-771-7626
addtothepagelist
Artist and potter John Delafield makes a wide range of wheel thrown stoneware pottery
using rich earthtone clay and glazes designed for everyday use.
www.delafieldpottery.com
Karla Cisneros of Blue Crab Studio

Blue Crab Studio specializes in the design and creation of one-of-a-kind furnishings and
accessories that celebrate the beauty of seashells and the pleasures of seaside living.
713-862-9088
www.bluecrabstudio.com
Linda Chateau Mumford Fine Art

Oils/Oil Pastels Abstract, Impressionism, Realism.
979-846-5358
www.mumfordfineart.com
Mary G. Wilkinson Painter/Printmaker

Light and texture studies. My subject matter is abstracted from the garden
and other immediate surroundings, usually but not limited to botanicals. Read more.
713-772-7469

Paintings and prints of the world around me, which is mostly Houston. Each painting is a colorful twist on my surroundings and should make the viewer relax and smile.
melindapatrick.com
832-771-0461
Cross the Universe

Hand made crosses - all shapes, sizes, mosaic, painted etc., also original art. by Myrna Sanders

Flying Fish Beads

Fabric art dolls, jewelry using vintage beads, hand-embellished garments and hand dyed handbags.
www.flyingfishbeads.com 713-956-0265
Visual Smiles Gallery

Whimsical World of Paper Mache & Clay with dogs, Fun Fish, Angels, Featuring a Fabulous Feline "Peanut Jones" in costumed ornaments, prints, magnets, cards, & much more! LindaGJ.etsy.com
713-501-8121
Serendipity Rose designs one-of-a-kind beaded jewelry and beaded gifts, using quality components ... constructed with care ... specializing in custom design from casual to formal.
Visit my website 713-772-1052
The Great San Saba River Pecan Company

Gourmet Preserves all have Pecans in them. Peach Pecan Amaretto, Raspberry Pecan,
Jalapeno Peach Pecan,Orange Pecan. Pecan Pie in the Jar. 281-342-8117
Great Pecans.Com
P.A. Mueller

I paint what I hear. Lyrics...poetry....conversations...that's where I start. My work is most often raw...highly textured...and all me. First Saturday Arts Market is home to me. Love the artists. Love talking to the folks. Love everything about it.
832-326-6328

Enchanted Photo Design
Fine art photography specializing in architecture, custom portraiture, and wildlife.
www.enchantedphotodesign.com 713-320-2713
Beyond Her is a collection of artisan housewares, apparel and gifts. We start with original designs, which we screen print on heritage fabrics or print using recycled paper. The look is fresh and modern - meets - natural and organic. We call it Art for Living.
Beyond Her has new lines for fall, including pet accessories (Beyond Fur) and home furnishings (Beyond Her @ Home)
www.beyondher.com

Erik Pijcke

I'm an artist from Holland and have a passion for giving a message through my art.
I paint in a post-impressionistic style using vivid colors, thick application of paint,
distinctive, vibrant brush strokes, real-life subject matter and use of unnatural arbitrary color.
www.wwoaw.net/
Phyllis Hall

Oil on canvas, Impressionism, Abstract
www.wwoaw.net/ Featured
M & J Jewelry

As a Caribbean and South American joint effort, M&J Jewelry has been creatively pursuing innovations in natural jewelry for two years. We love wire work- Its our favorite medium. Most of our work is done on sterling silver and with precious stones in their natural form. All who wear M & J not only wear our brand, but they wear our passion for all things rustic, yet refined.
www.mjjewelryinc.etsy.com
Phone: (281)323-5013 ;(832) 512-3700
Bus. (832) 213-9735
Lucky Sustainable Designs

Hand-crafted boxes and decorative objects from reclaimed, salvaged, and sustainably-harvested wood.
713-864-4658
www.luckysustainables.etsy.com
Tempera and acrylic on paper -- originals and prints.
A collection of vibrant abstracts, wild creatures, and dancing fruits and vegetables.
713-973-9173 My paintings, My music

Sheri Simpson

I just started painting seriously in 2007 and I'm truly enjoying myself. I've always played around with the idea of being an artist since I was a young girl. I also love science, and I believe having a good analytical mind is half the battle at being a good artist. I received both of my degrees from the University of New Orleans—BS in Biology and MS in Geology with a Chemistry minor. I work as a geochemist, doing some really cool stuff in a water lab. But I think I can finally call myself an artist too.
www.artbysheri.org http://www.artquestpearland.com
(832) 230-5967
I am an artist from Indian origin now based in Houston. My work predominantly revolves around abstract and Indian folk art. I like to play with a variety of medium; such as ceramic, acrylic, water, oil and pastel color; and different material such as paper, canvas and silk cloth.
www.artbybhavana.com 832-239-5005
Black and white and color fine art photography, which includes framed, unframed and matted, and a series of folk art 12"x12", hand made wooden boxes which showcase the images in a very unique way. I will also have my recent book, "Texas Troubadours" for sale.
www.steveharrisphoto.com 713 385-9055
Mixed Media on Canvas, abstract and not.
281-250-4889
elderstreetartist.com/
Carved wood; statues, relief drawings, & pendants from cedar, mesquite, and hardwoods.
(713)862-3225

Zach Meskell

Kid-run business fighting poverty!! I print homemade greeting cards on 100%recycled paper
and donate the profits to Heifer International. Buy lots!
832-767-6027
Read Zach's story in the Houston Chronicle here!
www.cardsforcows.com
Freedom Blocks are here!!
Nathan and Rosemary Meskell are launching a new kid-run enterprise. They sell 20-piece quality Maple hardwood children's block sets. They are snazzy, mostly post-production scrap wood that has been cut and sanded into a variety of shapes and come in recycled canvas bags. (The bags are pretty funky.) Each bag and each block set is unique and they're all cool. Even better, the sets are only $15 each and the profits will be donated to APPLE. APPLE is a small nonprofit dedicated to using community outreach and education to end child slavery in fishing villages in Lake Volta in Ghana. Check them out. http://www.freetheslaves.net/Page.aspx?pid=247 VERY SNAPPY. (the blocks, not Rosie and Nathan.) RECYCLED!! FUN!! STOMPS SLAVERY!!! email
Medium is scrap steel. The works follow a number of different themes from floral to intensely human.
713-805-7639
www.adams-ferro.com
Gloria Jane Favuzza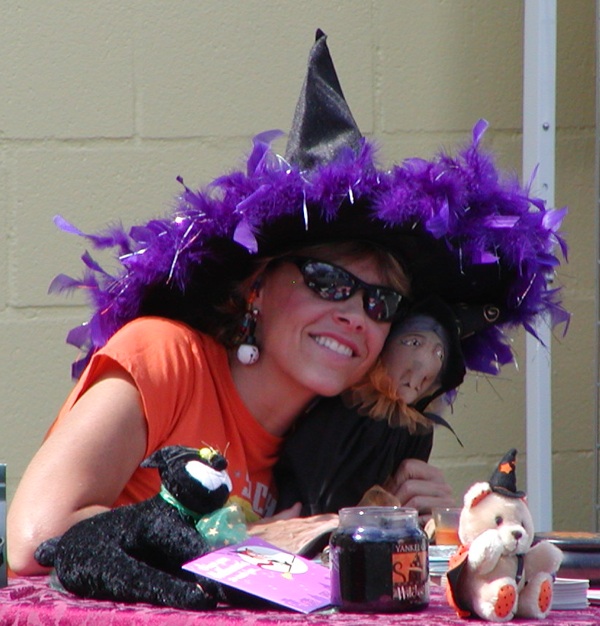 Astrologer/Tarot/Birth/Destiny/Love Card Readings
Office: (713) 953-1338, Cell: (281) 615-3446
www.gloriafavuzza.com